Copyright 2017 LuthierTOOL Company LLC







Tools are one of the basic necessities in building a perfect guitar be it an electric guitar or acoustic guitar and during the whole process the artistic side in you can flourish. Great luthier tools are our focus and passion to continually develop and research new ideas that will increase accuracy and productivity in guitar building. The guitar itself, require specialized tools that each have a specific solution to a particular building problem, each tool having the precision to accomplish these tasks. As the guitar industry grows so will the sophistication of the tools. If you are building an acoustic guitar, electric guitar or bass guitar, tools are the extension of your imagination.
"Chris and I began discussions for the design of the first generation of the Neck Angle Jig a decade ago. I have used it to cut my neck/body joints since. This new version is amazing! Even better than the original. Being able to "dial in" my neck geometry to a thousandth of an inch repeatedly and predictably, is why it is one of the most important tools in my workshop. Thanks Chris!"
Michael Greenfield
I am a high school teacher and I have been making guitars and ukuleles for some time. Most of what I have made is for myself, friends and family. I am always looking for tools to help me make high quality stringed instruments. I found the Luthiertool Co. website and their slot head fixture. I watched their videos and was impressed. It sounded like the perfect solution to the tedious process of measuring and cutting the peghead slots. Communication about their product and shipping from Chris and Glenda was excellent. When the fixture arrived I was very impressed with the design, engineering and quality. Within 15 minutes I was able to set-up and cut accurate slots for a parlor style guitar with a redwood top I was working on ( I call this guitar Myrtle because she is made form highly figured north western myrtle). I consider the slot head fixture an indispensable tool in my shop. I'm very satisfied with the fixture and I recommend it to other Luthiers without any reservation.
Paul Lange
Singing Strings Luthier Guitars & Ukuleles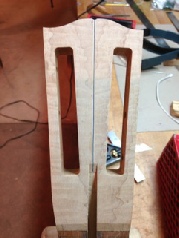 I have used the binding cutter and guitar body cradle for several guitars over the past few months. And I have to say it exceeds my expectations. It's simply fantastic! The design, high end quality, and ease of use make it a joy to use. (as is all the products I have from Luthier tool). No longer do I sweat the binding stage of the builds.
I will be sure to keep an eye out for your new products.
Thanks so much
Patrick
I couldn't be more satisfied with your slot head fixture. Upon discovering the tool online and watching Robbie O'Brien's review, I pretty much knew this was the tool I wanted to use for my slot head Ukulele's. Purely from a luthier's perspective, this tool answers many demands we place on a tool: solid construction, durability, repeatability, easy to adjust, customizations and precision. There are similar tools out there, but I personally believe Luthier Tool has done an incredible job with the engineering of this tool and to me it is the best overall investment compared to the other comparable tools out there. All in all, if used correctly this tool can makes cutting the slots an enjoyable task.
John Covey
Ukulele Builder